Bevin Mirskey, a fictional character on television's hit show "One Tree Hill," came across convincingly as a beautiful and sweet but ditzy, blonde, not-so-bright cheerleader. The real-life Bevin Prince, the young woman who portrayed that character for five seasons on the CW television network and a Class of 2000 Saint Mary's graduate, is an oh-so-bright and gifted actor who is as intelligent, charismatic and wise as she is talented, thoughtful and kind-hearted.
Bevin returned to Smedes Parlor at Saint Mary's on March 4, to share her life advice and wisdom with the SMS junior class as part of the final COMPASS Day program for 2010-2011. COMPASS is Saint Mary's life skills curriculum, and Bevin has much to teach today's high school girls about real-life skills, based on her educational and professional experiences since graduating from SMS in 2000.
After Saint Mary's, where she acted in numerous drama productions in historic Pittman Auditorium, Bevin enrolled at North Carolina State University, but transferred to the film studies program at UNC-Wilmington where she was a member of that department's first graduating class. Living and studying in Wilmington, a hub of filmmaking in North Carolina, she worked as an intern with Fincannon & Associates Casting, where she began to learn the business of film and television.
She was also a member of the UNC-Wilmington Seahawk Dance Team, which made her an excellent candidate to play the part of a cheerleader on the teen drama, "One Tree Hill." Bevin is best known professionally for her work on over 30 episodes of that hit show, which is filmed just two hours from Raleigh in Wilmington, N.C. She began her "OTH" career appearing as an extra during cheerleading scenes. Her character developed over five seasons, as she was given one line to speak, then two lines, then a scene, and, ultimately, a substantive story line for the fictional Bevin. She told the Saint Mary's students that she believes the writers wanted to write for her because she "showed up for work" every day giving her best effort, whether she was directed to shake a pom-pom or simply raise her hand in a classroom scene.
She was also sincerely kind to everyone she met or worked with, from the stars to the hair and makeup artists to the staff who emptied the trash, a core value that she encouraged the Saint Mary's girls to practice in every encounter they have with others, as both the right thing to do and as a part of being the kind of person that people want to work with and help along the way.
Although the Saint Mary's students had many questions for Bevin about their favorite "One Tree Hill" characters, her close friendship with Sophia Bush and other "OTH" cast members, and life in Hollywood, they hung on her every word about living life well with character, kindness, strength and integrity. In fact, what came through most about Bevin in her conversation with Saint Mary's juniors is that she has a big heart, a kind soul and a tremendous work ethic.
Bevin was passionate and articulate in her soulful advice to the Saint Mary's girls about treating others well, spreading the love, nurturing relationships with family and friends, caring for one another and for one's self, being authentic, refraining from gossip, working hard, listening and learning from others who have paid their dues, and respecting all others.
The students connected immediately with Bevin.
"She was so confident, and she did a really great job explaining to us that we can, as women, have our own voice no matter what we do with our lives," said Emma Rizer '12.
"She was amazing," said Ashley Thompson'12. "She is my new role model."
Bevin's work and life have taken new turns, ebbs and flows, as she continues to build upon her experiences, education and credentials. As "One Tree Hill" shifted its focus after five seasons, Bevin left North Carolina to pursue her craft in Los Angeles. There, she appeared on television in "House, M.D." and "Desperate Housewives," among other shows, and in films including "Wreckage," "Redefining Love," "I Heart Veronica Martin," "Dark Horse" and "Groupie." She also worked as a writer's assistant for executive producers at ABC, a great opportunity to learn another part of the film business.
Bevin, who grew up in Cary, has left the glitz of Hollywood behind for now, focusing on furthering her education at the Savannah School of Art and Design, where she is working towards a master's degree in performing arts.
"I have one task right now, and that's school," said Bevin. "I learned to honor and value education and teachers, and I know that education will give me the toolbox to walk into any room or situation with confidence and the knowledge I need to hold my own with anyone."
Bevin credits Saint Mary's teachers, including Randall Lathan and Steve Esthimer, with instilling in her a love for literature, stories and learning; Saint Mary's for teaching her that women need to nurture and support each other; and her parents and sister for their incredible love, support and inspiration.
"I have never been more confident, happy and trusting," said Bevin. "I've been given every opportunity to succeed in life, and I feel like the luckiest girl in the world."
Of her homecoming to Saint Mary's she said, "It did so much for my soul. Saint Mary's is a very special place, and I am so honored to be a part of such an exquisite group of women."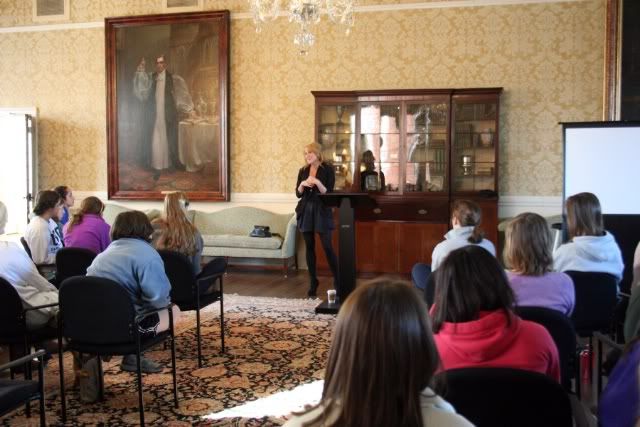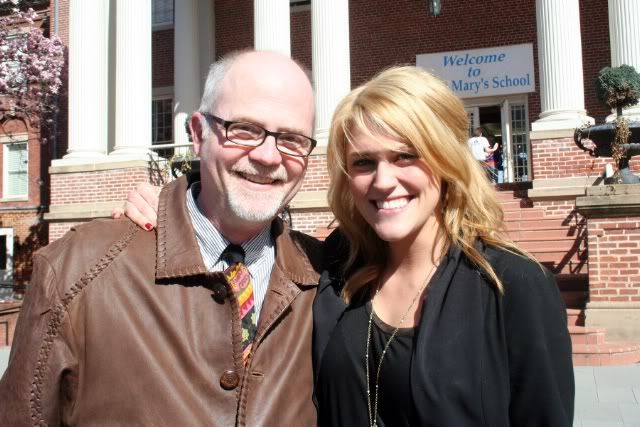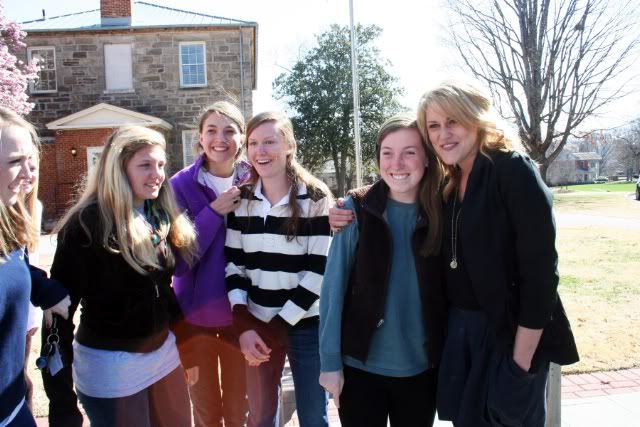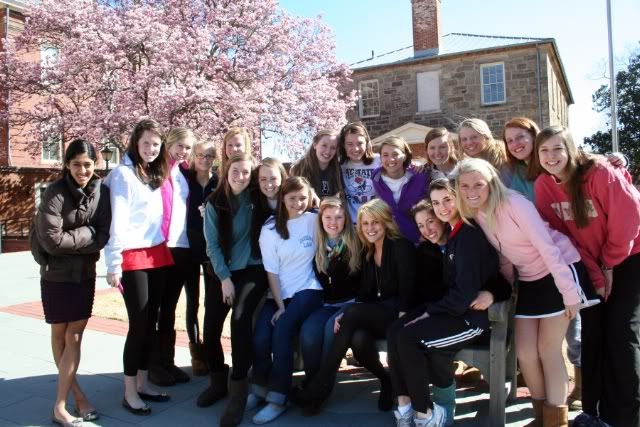 (
source
)